For adrenaline junkies, jumping out of an airplane with only a parachute to guide you softly towards the earth provides a rush that's second to none. But there are other, aesthetic reasons to drop out of the sky from tens of thousands of feet. Like plunging into the snow-capped Swiss Alps from above the clouds. Or hurtling headlong towards a man-made archipelago in the gorgeous Persian Gulf. You know, that kind of thing.
Hence, this: it's a guide to the world's most picturesque drop zones. Read at your own risk.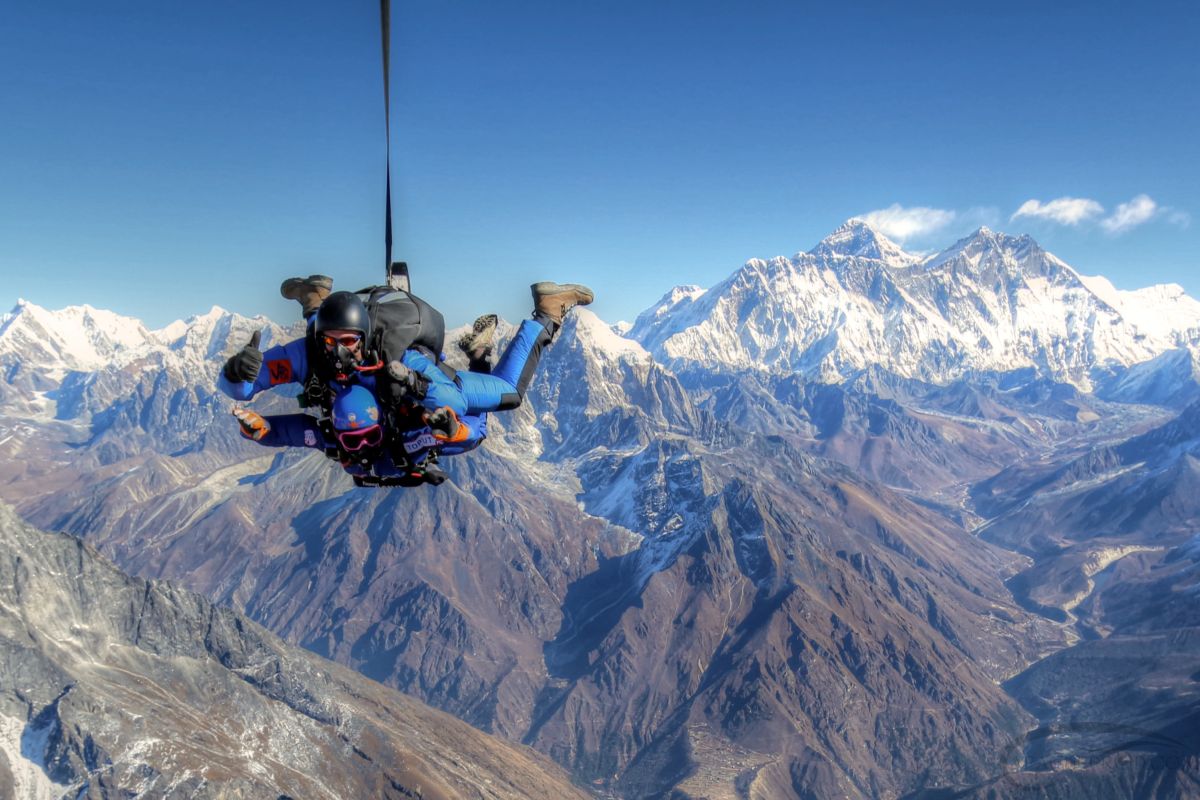 Where: Mount Everest with Everest Skydive — Nepal
Height: 29,500 feet
What: Mount Everest is the holy grail for skydivers, as it boasts the highest drop zone in the world over the highest mountain in the world. With sweeping views of the Himalayas, solo divers barrel out of the plane at approximately 120 miles per hour. Tandem divers first free fall from an AS 350 B3 Eurocopter Helicopter—the leading rescue helicopter in the Himalayas—for 10,000 feet before pulling their parachutes for about a five-minute canopy flight down to Ama Dablam Base Camp or Syangboche Airport.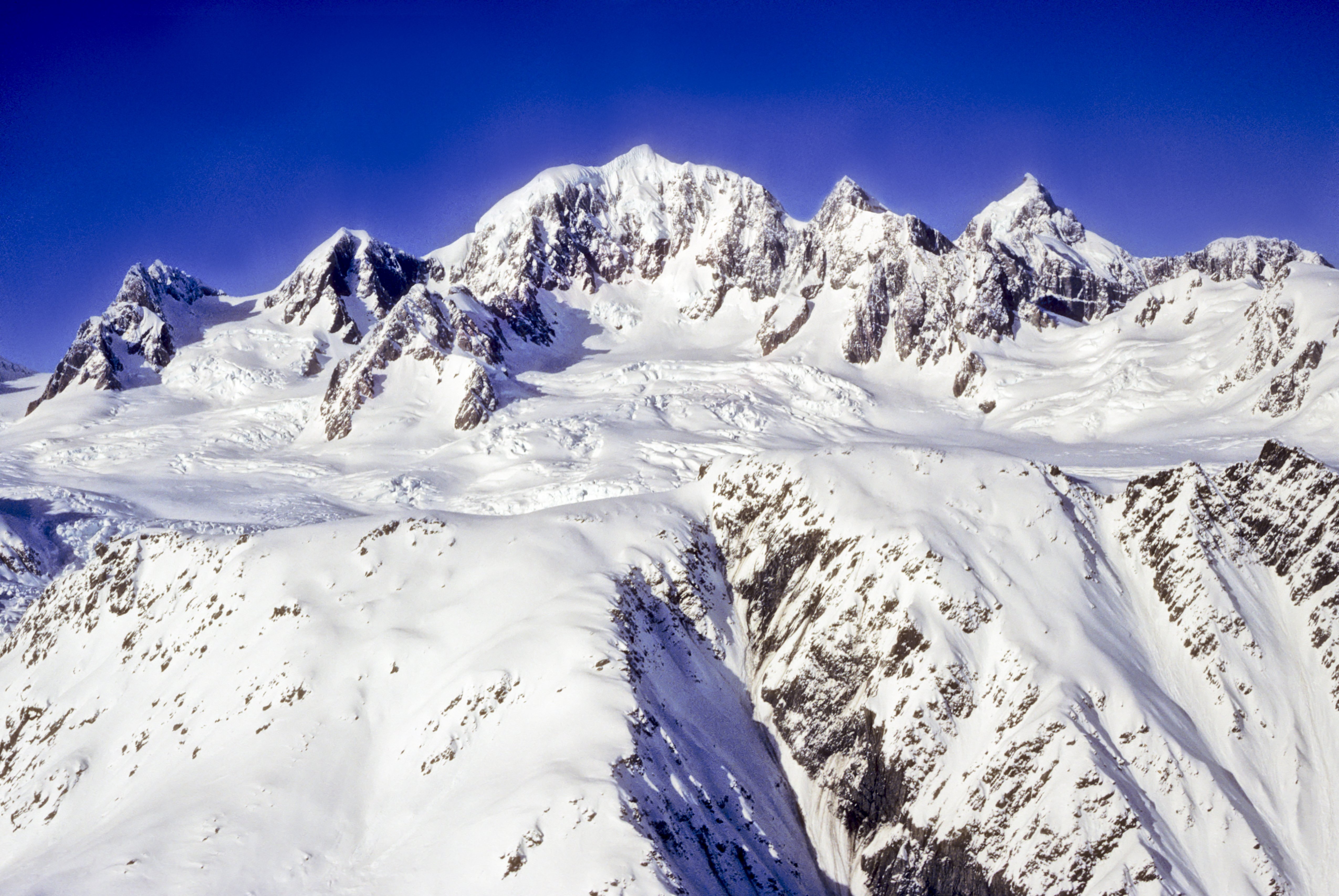 Where: Fox Glacier with Skydive Fox Glacier — Westland Tai Poutini National Park, New Zealand
Height: 9,000 feet, 13,000 feet or 16,500 feet
What: New Zealand is widely recognized as a ground zero for extreme adventure sports, and skydiving is no exception. A flight to altitude takes divers around Westland Tai Poutini National Park over subtropical rainforests, rivers, lakes, the Tasman sea and the country's most monstrous mountains—Aorki, Mt. Cook and Mt. Tasman. Then, they lob themselves over Fox Glacier, an eight-mile-long glacier on the west coast of New Zealand's South Island—it's the largest and highest of the West Coast Glaciers, has the most expansive snowfields and is closest to the country's major peaks. To date, more than 30,000 dare devils have taken the leap.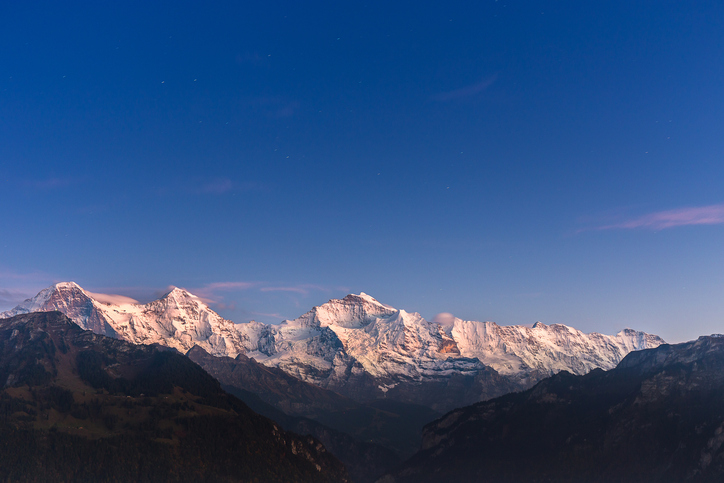 Where: Swiss Alps with Skydive Switzerland — Interlaken, Switzerland
Height: 13,000 feet or 15,000 feet
Why: If diving over the snowcapped Swiss Alps sounds at all appealing, the mountain town of Interlaken is the place to do it. From 13,000 to 15,000 feet above sea level, divers can also spot the icy blue Lake Thun and Lake Brienz, plus Italy, France, Germany and Austria stretching out past the peaks of the Eiger, Monch and Jungfrau. The 20-minute ascent is followed by 45 seconds of manic free falling at 120 miles per hour and four to five minutes of canopy riding back to earth.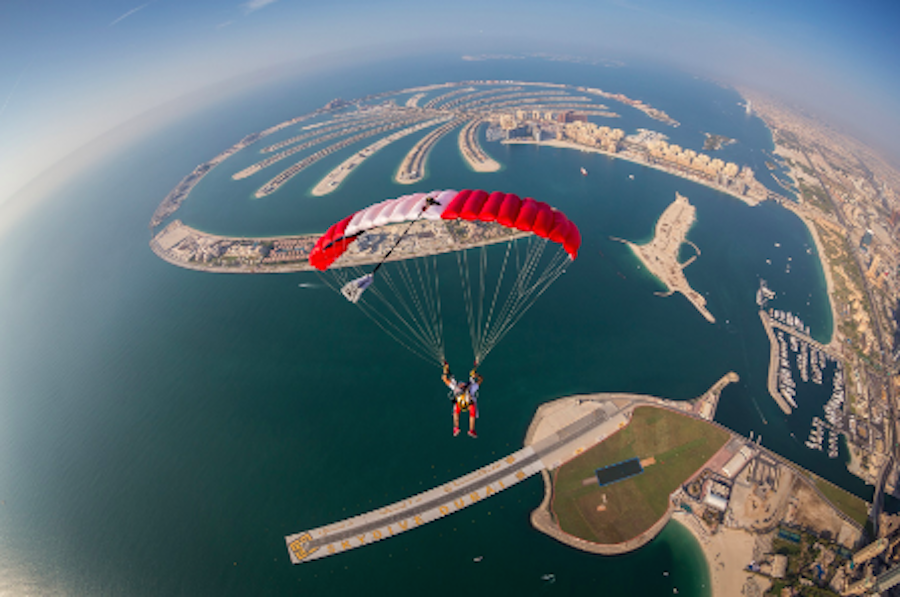 Where: Palm Jumeirah with Skydive Dubai — Dubai, United Arab Emirates
Height: 13,000 feet
Why: If you're itching to jump out of a plane, jumping over Palm Jumeirah seems like a good place to do it. Unlike many other drop zones, this one's a city jump over the man-made archipelago jutting out from the city's urban marina. Divers get a panoramic view of the Persian Gulf and the city of Dubai in its entirety. Dubai may be a newcomer, but it's making a name for itself among skydiving fiends by hosting one of the biggest annual international skydive championships, a competition sponsored by The Emirates Aerosport Federation (EAF) and Skydive Dubai.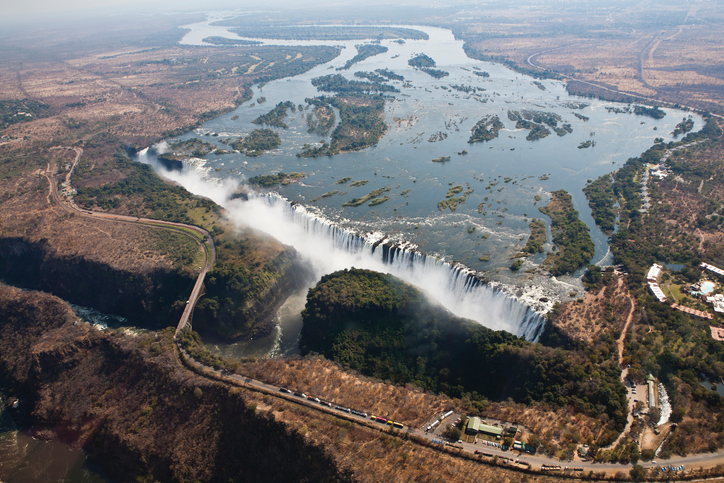 Where: Victoria Falls with Victoria Falls Adventures— Livingstone, Zambia
Height: 6,000 feet, 8,000 feet or 10,000 feet
Why: Why not dive over the largest waterfall in the world? In southern Africa on the Zambezi River at the border between Zambia and Zimbabwe, divers can take in the views from the top of the waterfall (where they definitely won't get sprayed). All instructors have taken over 1,000 jumps, so divers free-falling for up to 35 seconds can rest assured that they're clipped to seasoned professionals.

Where: Grand Canyon with Paragon Skydive — Grand Canyon National Park, Arizona
Height: 15,000 feet
Why: With its layered bands of red rock revealing millions of years of geological history, the Grand Canyon is one of America's greatest natural wonders. It's also the setting of many a skydivers' fantasy. After being promptly thrown from a plane, viewpoints are much better than Mather Point, the Yavapai Observation Station or even Lipan Point—especially while spiraling through the sky at up to 136 miles per hour. Upon completion, you'll receive a certificate, so you can prove to your friends how much of a badass you are.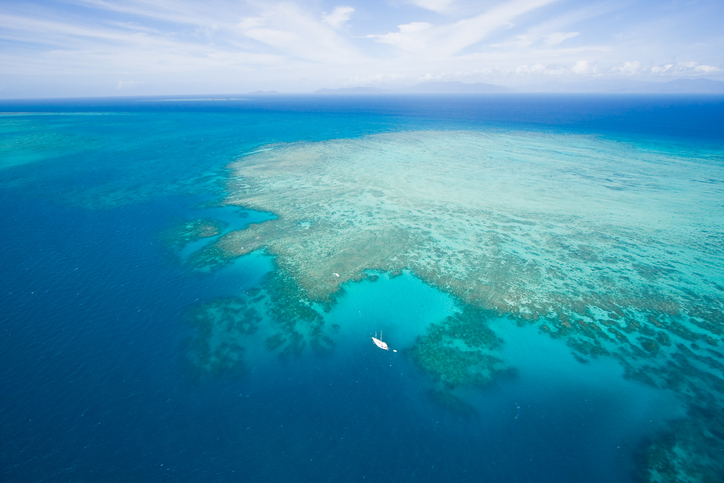 Where: Great Barrier Reef with the Oz Experience — Cairns, Australia
Height: 14,000 feet
Why: Sure, scuba diving in Australia's great natural wonder is enticing, but skydiving over it may be even more alluring. Why? Because divers not only get to see the Great Barrier Reef, but they also get to see the Wet Tropics of Queensland—that's two UNESCO World Heritage sights in one jump. The Oz Experience warns tandem divers that the adrenaline-pumping ride will scare the daylights out of them—but in a "really, really good way." Cool?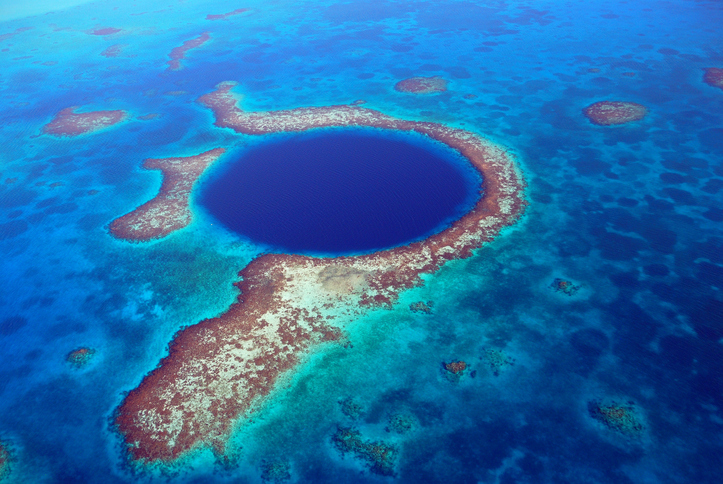 Where: The Great Blue Hole with Skydive San Pedro — San Pedro, Belize
Height: 13,000 feet
Why: Most people snorkel in the Great Blue Hole, the massive, murky sinkhole off the coast of Belize. Some dive deep down into it. And others dive over it, leaping from 13,000 feet over the World Heritage Site reef because...because. They free-fall for about a minute at speeds of up to 120 miles per hour, and then glide the rest of the way to the landing zone on the beach of Ambergris Caye. Some companies may even allow you to skydive into the submarine sinkhole (as opposed to over it), but according to one adrenaline junkie and YouTube vlogger who's done it, less than 150 people have jumped into the hole.