To flawlessly cook a slab of steak is no easy feat—and no amount of sauce can remedy botched beef. Committed carnivores will go to the ends of the earth for a marvelously marbled, impeccably charred or skillfully seared steak.
The U.S. is widely recognized for the New York strip steak. Argentina is known for the Bife de Chorizo. The Italians eat a lot of Bistecca alla Fiorentina. The Aussies like their Tomahawks. In Japan, there's Kobe Wagyu; in France, there's steak tartare. While they may vary by country, there's no shortage of quality steaks around the world—and you being you, we thought you'd want to try to get to as many of them as you can.
That's why we've rounded up 10 of our favorites from across the globe and placed them right here for your virtual consumption. And hopefully, one day soon, your non-virtual consumption...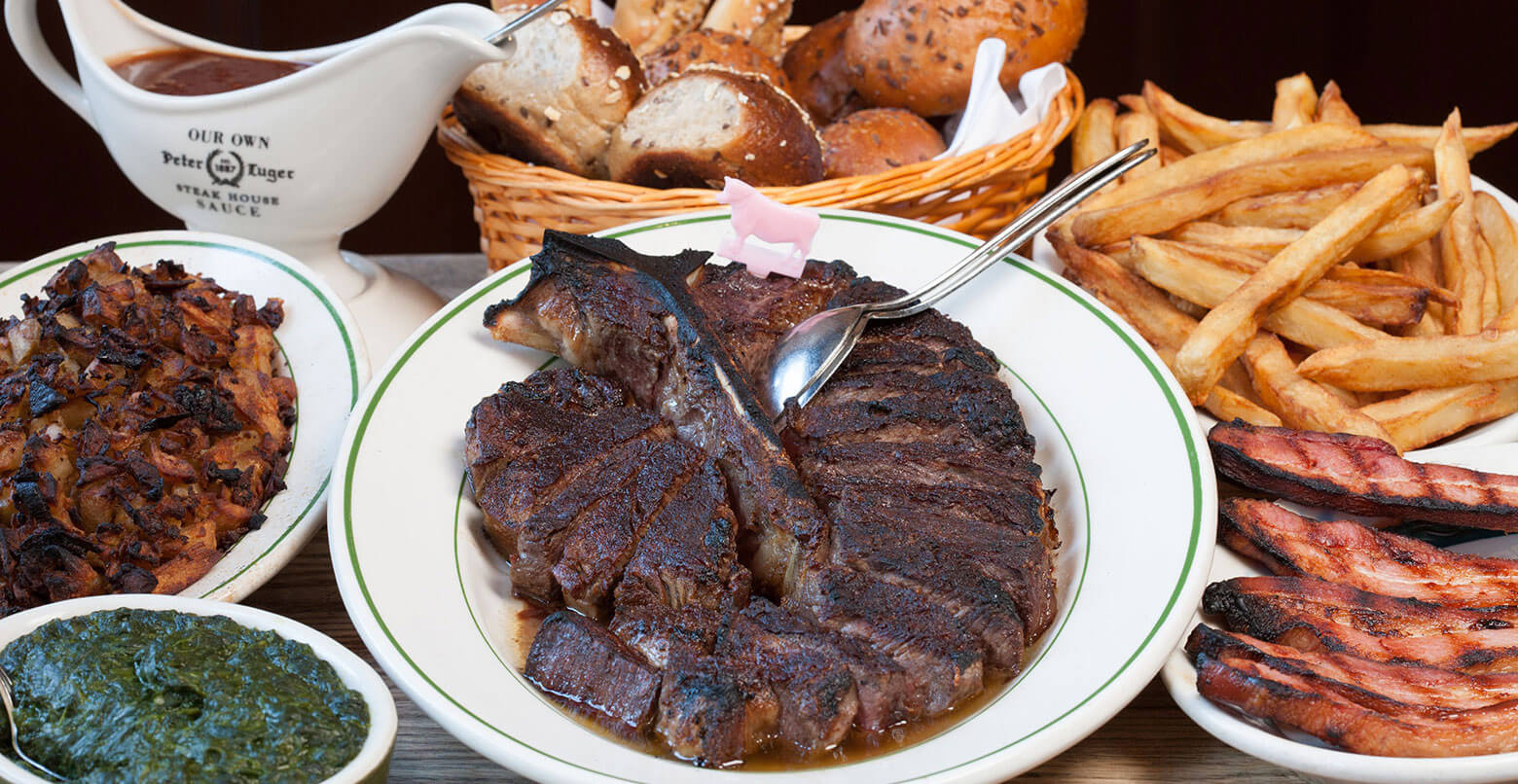 The Steakhouse: Peter Luger
Location: New York, New York
What to expect: We owe much of the modern American steak's legacy to New York City's quite literal "Meatpacking District," which opened a slew of steakhouses in the mid-19th century; by 1900, the neighborhood boasted more than 250 slaughterhouses and meatpacking plants. And that's what supplied Peter Luger from its start in 1887. With origins in Williamsburg, this family-owned steakhouse is a New York namesake with a storied history. Peter Lugar and his nephew, Carl, opened Carl Luger's Café, Billiards and Bowling Alley. There they served Sol Forman—who owned his own company, Forman Family, just across the street—two to three steaks a day from the Meatpacking District. When the restaurant fell into disarray following the death of Peter Lugar, Forman purchased and repaired it. Now, still under Forman family management, the cash-only, Michelin-starred establishment serves up USDA Prime meat, which has been scrutinized for conformation, color, age, marbling and texture, before the selected short loins and shells are brought to their on-site dry-aging facilities in Williamsburg and Greatneck Long Island (where Peter Luger has opened a second location). They're trimmed and broiled before the chef slaps a juicy piece of New York history onto guests' plates.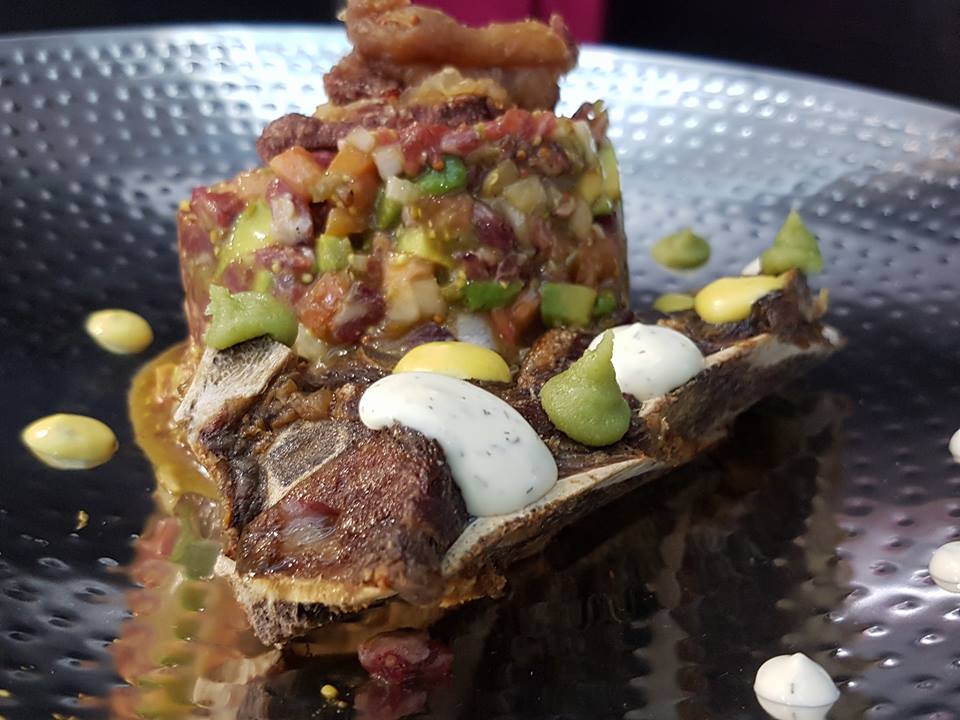 The Steakhouse: Bodega El Capricho
Location: León, Spain
What to expect: In the tucked-away, tiny, off-piste village of Jiménez de Jamuz, about an hour southwest of León, farmer and chef José Gordón sources beef from breeds indigenous to the Iberian peninsula. He rears the cows himself for an average of five years before aging their meat for another 90 days and grilling it over sweet-smelling Spanish oak. Guests are served their T-bones, entrecôtes and sirloins at candlelit wooden tables in a former wine cellar and, as such, are offered excellent Spanish reds to accompany their meals.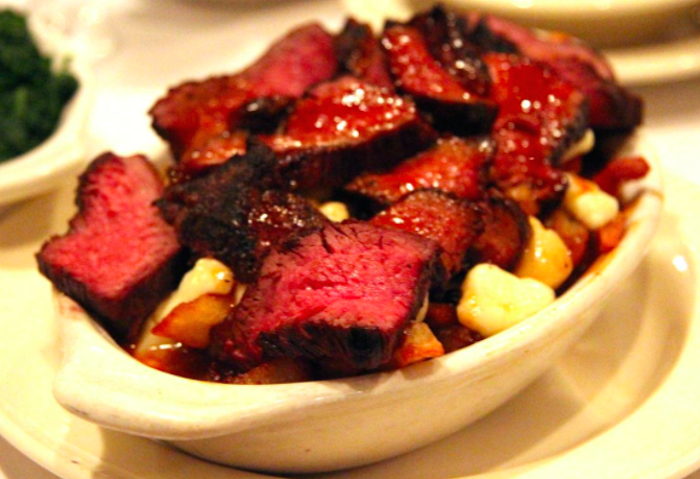 The Steakhouse: Moishe's Steakhouse
Location: Montreal, Quebec
What to expect: A Romanian immigrant by the name of Moishe Lighter opened this star-studded favorite in 1938, and it's since served famous faces like Penelope Cruz and Robert de Niro. It's a steakhouse with a central European twist and, of course, some steak poutine to prove that it's still quintessentially Canadian. Moishe's also boasts a separate menu entirely dedicated to dry-aged beef, from a 45-day, all-natural Filet Mignon Carpaccio with smoked fleur de sel, caramelized Cippolini onions and arugula, to an all-natural prime beef aged for a minimum of 45 days, a sirloin and a porterhouse for two.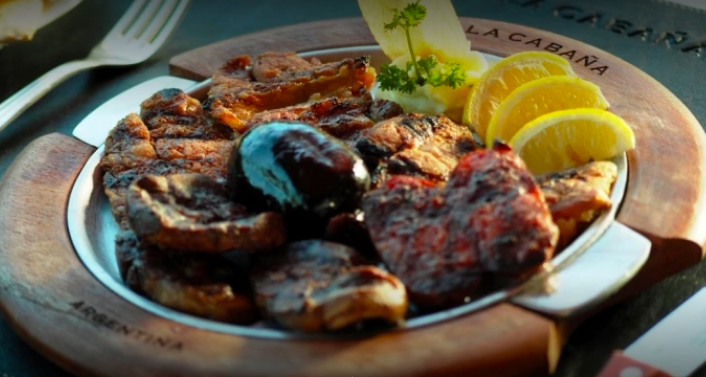 The Steakhouse: La Cabaña
Location: Buenos Aires, Argentina
What to expect: La Cabaña is one of the most—if not the most—well-known steakhouse in Buenos Aires, located in the prestigious district of Puerto Madero. It's highly decorated guestbook boasts the signatures of Nixon, Charles de Gaulle, the Aga Khan and every single Argentine president since the restaurant's inception in 1935. And for good reason: the Kobe beef on La Cabaña's menu is considered by experts one of the best in the world, renowned for its flavor, juice and tenderness from the marbled texture of Wagyu cattle. Its menu of grilled beef cuts, including its classic "Great Baby Beef," has become a source of inspiration for local cuisine.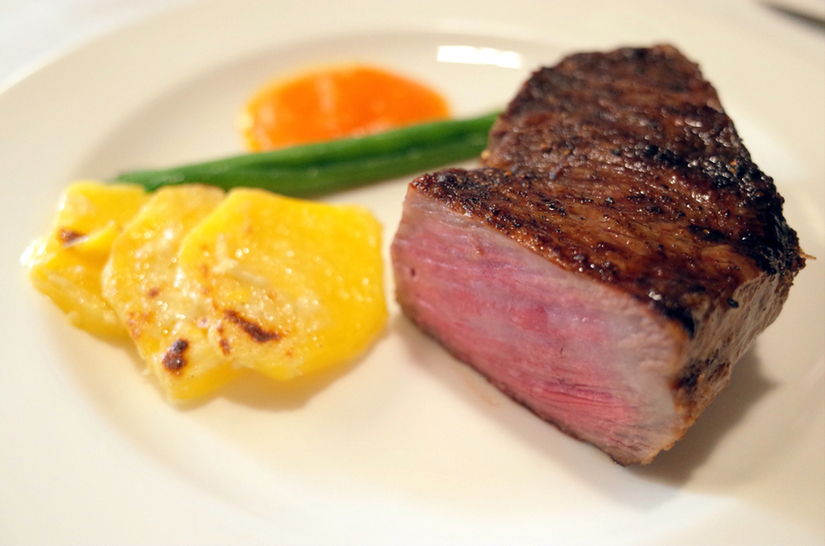 The Steakhouse: Aragawa
Location: Tokyo, Japan
What to expect: This meat-lovers paradise raises purebred Tajima cattle for more than 28 months in the Sanda region of Hyogo Prefecture before the meat makes its way through the basement doors of the nondescript office building in which Aragawa is located. And that's just the beginning. There are 10 separate stages of the grilling process (read: regular kneading and sake marinading) in a special oven over binchotan hardwood. As with most business districts, the Shinbashi area of Tokyo isn't known for its vibe—and neither is this steakhouse. But the prices are steep nonetheless because the meal is worth it.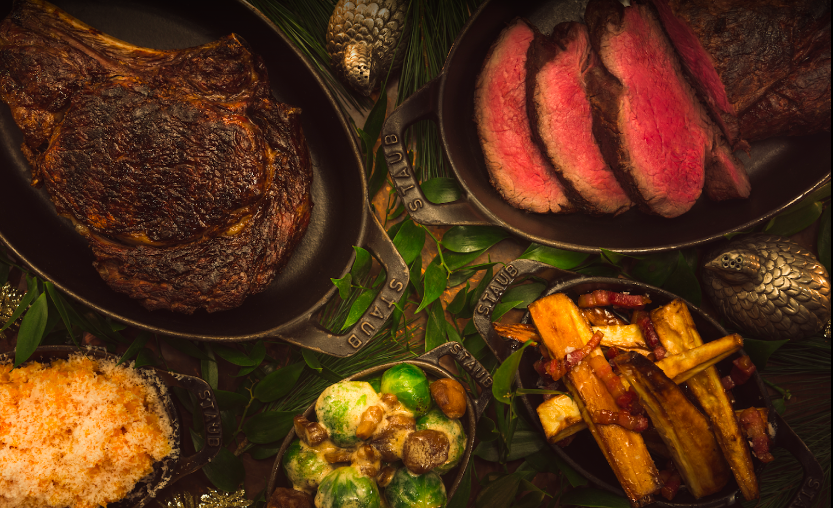 The Steakhouse: Hawksmoor Guildhall
Location: London, United Kingdom
What to expect: This award-winning British steakhouse and cocktail bar serves up British grass-fed, dry-aged beef and sustainably sourced seafood from Brixham in its seven branches across London and Manchester. It's successfully established itself as a small empire, but you'd be wise to make a reservation at the Guildhall location. Why? Well, if the Chateaubriand or rib-eye doused in béarnaise, peppercorn, bone marrow gravy, anchovy hollandaise or Stichelton hollandaise aren't enough to whet your appetite, the restaurant offers a "Feast of the Beasts" tasting menu for eight to 10 guests. It's a six-course meal from land and sea for the very, very hungry.
The Steakhouse: Antica Osteria Nandone
Location: Tuscany, Italy
What to expect: Bistecca alla Fiorentina is an iconic steak in Tuscany, made from the Chianina breed, the largest and one of the oldest cattle breeds in the world. Most restaurants in the region will serve it. But no place serves this steak finer than Antica Osteria Nandone, a country inn about 25 miles northwest of Florence. There's no menu; rather, a spread of assorted appetizers and wine greets guests upon their arrival. And, this being Italy, it's a traditional, family-run osteria. The owner, Paolo Mugnai, handles everything—he even cooks the beef on the hearth himself in front of visitors.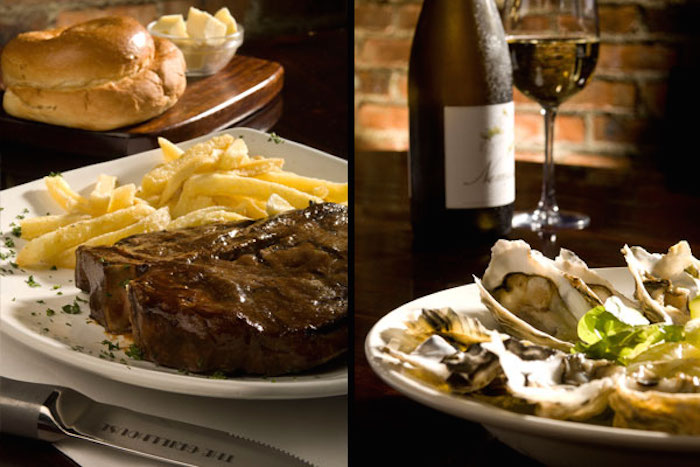 The Steakhouse: The Grillhouse
Location: Johannesburg, South Africa
What to expect: Guests can expect the best "quadfecta" of a steakhouse in all of Africa—food, fine wines and malts, unparalleled service and an ambience you won't find elsewhere (it's got a cigar lounge and a live music venue, should you find yourself hanging around after dinner). Appetizers range from beef carpaccio to mussels, oysters and scampi, only to prepare diners for the Grillhouse Platter, a combination of ribs (beef or pork), lamb cutlets, boerewors sausage and beef kebabs. If pepper-crusted ostrich medallions sounds more enticing, there's also that. And, for a steakhouse, there's even an impressive vegetarian menu of hummus, falafel, vegetables and...nah. That's not why you're here.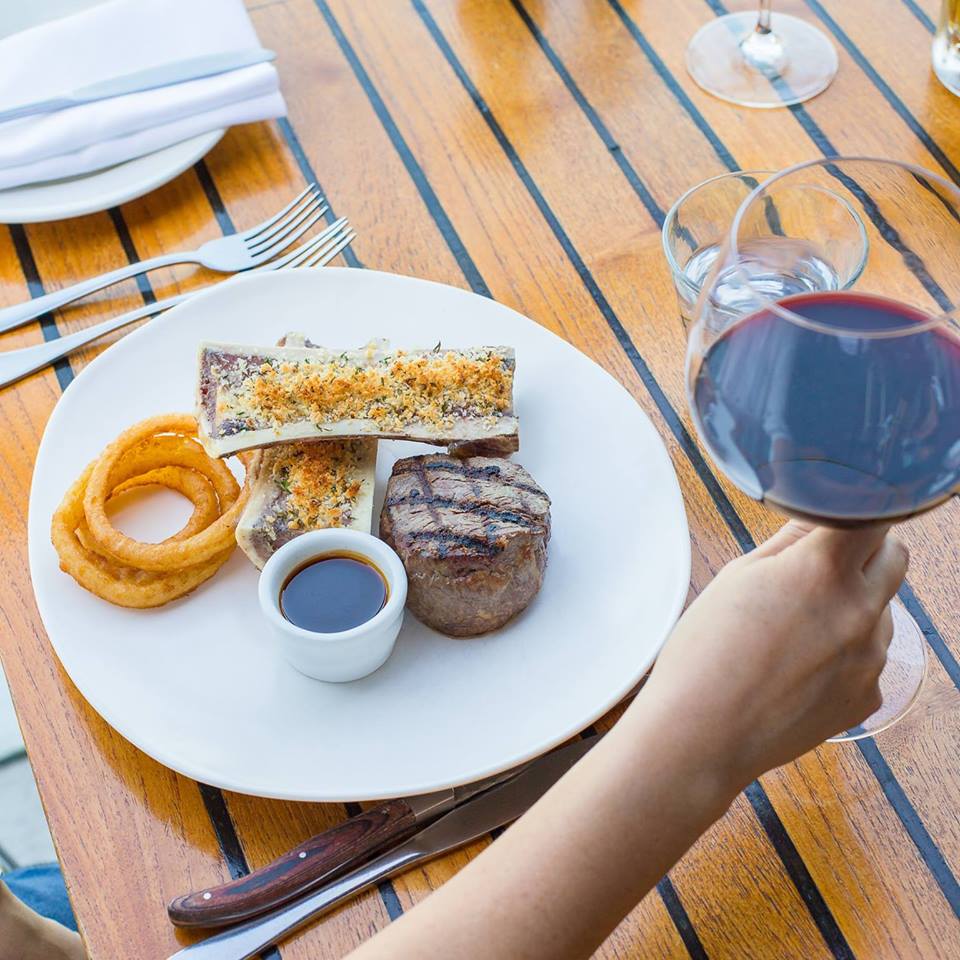 The Steakhouse: Kingsleys Steak & Crabhouse
Location: New South Wales, Australia
What to expect: Just opposite the Royal Botanic Garden on Sydney's iconic Woolloomooloo Finger Wharf, diners can take in the harbor and city views. And they do so all while chowing down on a slow-roasted black angus striploin or an 800-gram, 400-day grain-fed Wagyu rib, still on-the-bone and smothered in béarnaise, green peppercorn sauce, tomato chilli jam or chimichurri. Or any of the other Kingsleys Cuts or crustaceans on the menu. If you can't decide, the prix-fixe package includes three courses plus a three-hour beverage deal. You've never met a three-hour beverage deal you didn't like.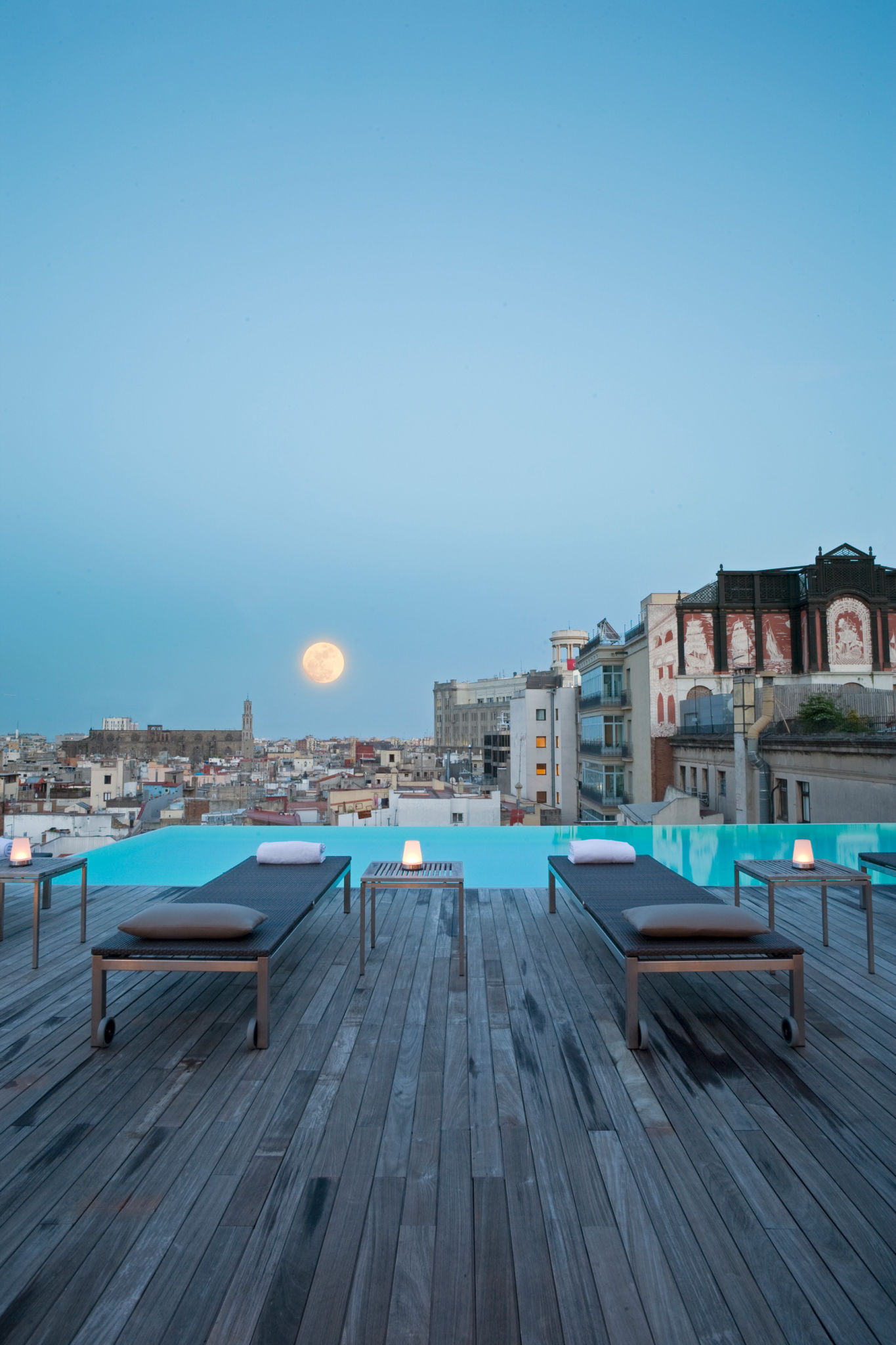 The Steakhouse: Le Relais de l'Entrecôte
Location: Paris, France
What to expect: Parisians are serious carnivores, and this long-standing restaurant has multiple locations across their city to sate their appetites. It's particularly known for its steak frites, which is the sole entrée diners can order. The original recipe was created in 1959 by Paul Gineste de Saurs. There's a reason it still exists—and thrives—to this day.