Budapest is one fin-de-siècle city with two idiosyncratic personalities of once-separated regions: the placated peaks of Buda and the pulsating Pest. They're linked by eight bridges across the Danube River; art nouveau, baroque and neoclassical architecture; an affinity for goulash; a wealth of thermal baths and a national identity complicated by centuries of conflict and reform.
Oh, and epic ruin bars as a result of it all. After World War II, a bulk of Budapest—and particularly the Jewish District—was in disrepair. What remained was urban decay: abandoned warehouses, derelict apartment buildings and unoccupied wastelands. So, in the late '90s, developers started transforming these spaces into dilapidated drinking establishments serving up relatively cheap beers for locals and tourists alike. Today, there are tons of them, but here are the best of the bunch…
1. Szimpla Kert
Szimpla Kert is Budapest's very first ruin bar—a café and open-air cinema that opened in the carcass of an old factory, decorated with whatever the artists who opened it could find: a maze of mismatched flea market furniture, a compendium of curios, local graffiti and a hollowed-out Trabant car that's been turned into seating. The locally sourced décor and art installations alone make it worth a visit for travelers, but Hungarians also frequent it for the diverse selection of local bands that play there.


2. Instant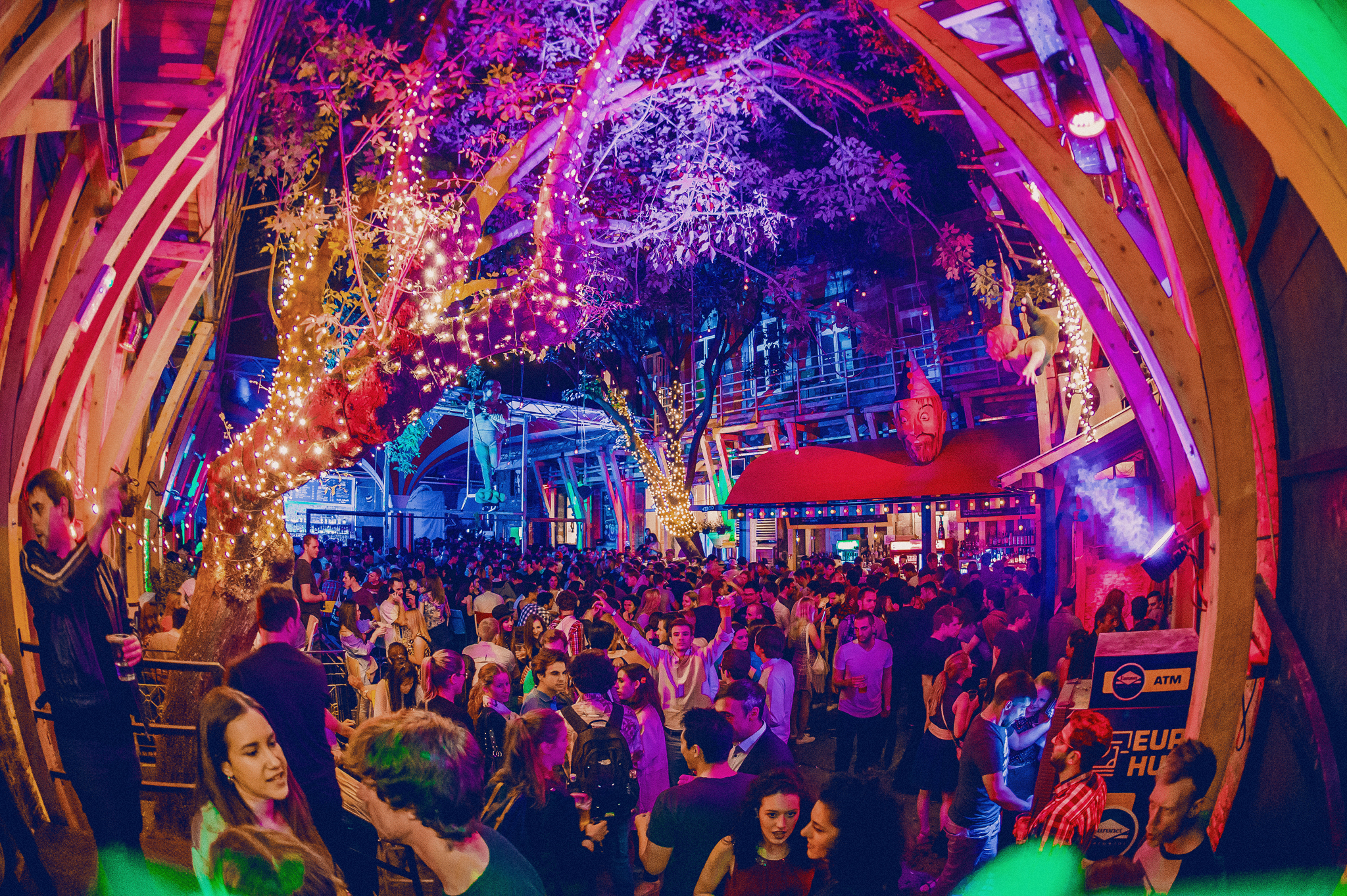 If you're into the European nightclub scene, Instant is the nightclub of all nightclubs. Boiled down, it's a trippy, magic forest-themed, cavernous labyrinth of 26 randomly designed rooms (including an upside-down room, in which the furniture hangs from the ceiling), seven bars and six dance floors that sprawl across two old tenant buildings (and that's the boiled-down description). Each room plays different music, so there's something for everyone. Just expect to get very, very lost inside this rabbit hole, and embrace it.


3. Fogasház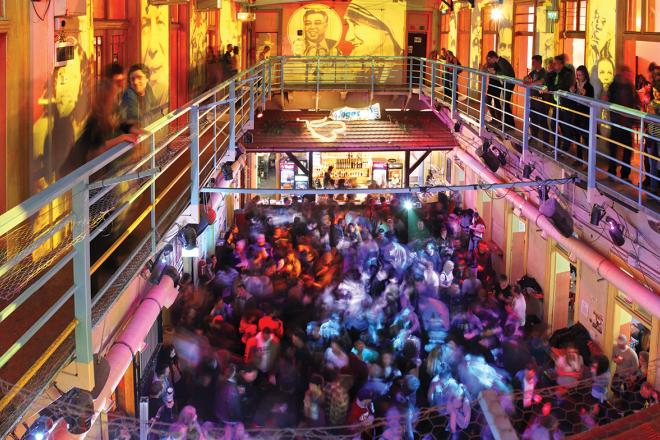 A relatively relaxed option among Budapest's bustling bar scene is Fogasház—quieter depending on where you hang out inside the massive complex, anyway. Fogasház's Liebling bar and rooftop terrace offer a cozier option than the parties in its PONT venue, or the EDM that has the walls of its Lärm venue vibrating. You could go to Fogasház every night of your trip in Budapest and have a wildly different experience every time—you might not even recognize that it is, indeed, the same place.


4. Rácskert
Once an empty parking lot, Rácskert is one of Budapest's newer ruin bars. It's an open-air ramshackle garden erupting with art installations and gastronomy. Foodies flock here for the burger van that serves up snacks from the Bosnian Serb owner's homeland, the bountiful street food options and the platters of potted herbs.


5. Csendes Vintage Bar and Café
Vintage aficionados can't get enough of this chill spot. It's tucked away at the corner of Csendes Társ park, and layered with antiques like pram wheels and mannequin torsos, and it offers chicken liver pâté and Swabian fried sausage, which, last we checked, your local ruin bar did not. A stack of board games encourages post-meal lingering.


6. Anker't
This abandoned factory is now a minimalistic, but expansive, beer garden made up of connecting courtyards. It offers up beer, aromatic grilled eats and underground DJs. Anker't also regularly hosts exhibitions, movies and poetry slams, and it houses a farmers' market every Sunday. It's very Hungarian.


7. Kuplung
A former auto repair shop, Kuplung now houses live bands inside its underground grunge venue, just behind the front bar. An immense whale skeleton hangs from the ceiling because, why not? You could also sit outside in its expansive alfresco garden—which is also adorned with a giant blue whale mural… because, why not?