Every now and then (read: often), times call for an ice-cold beer. But as great as your old standby watering hole is, it's got limitations. So right here, right now, are the eight bars with the best beer lists on the planet. Lists worth grabbing a flight for. Cheers.
1. Delirium Café—Brussels, Belgium
Put simply: Delirium Café is the granddaddy of bars with impressive beer lists. It broke the record for the world's biggest beer selection in 2004 with more than 2,000 options, and then it topped itself. Today, the Belgian thirst trap has about 3,000 beers to offer curiosity-stricken imbibers. You could spend an entire day in there choosing from the Trappists, famous Belgian abbeys, strong brown beers, lighter beers, fruity beers and even unusual beers that taste like chocolate, banana, coconut, peppers and more—all of which are served in their own unique glassware.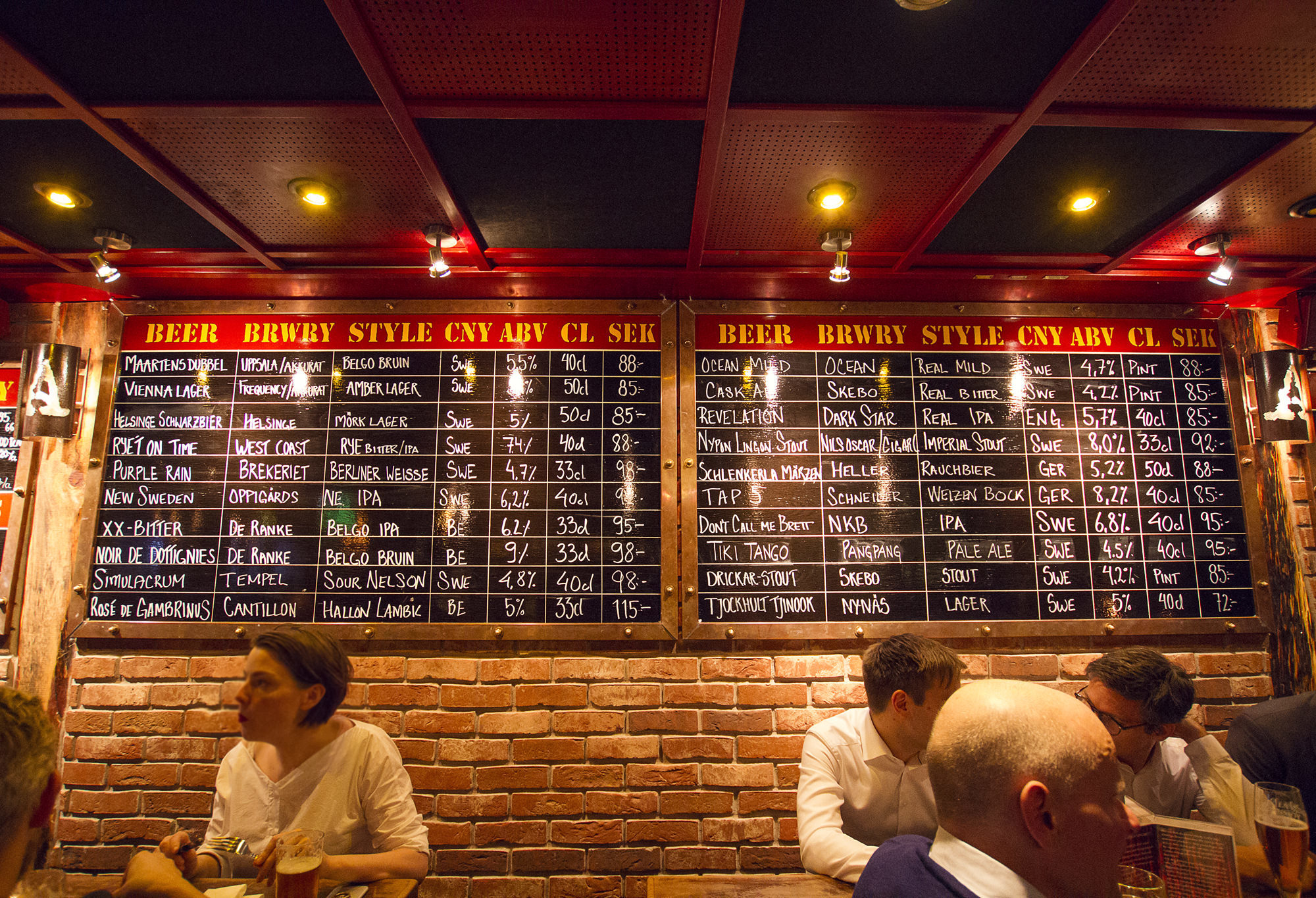 2. Akkurat—Stockholm, Sweden You've got the regulars on tap, which are the Bedarö Bitter, Erdinger Weissbier, Everyday IPA, Grim Lager, Maartens Double, Saison Dupont, Skebo Drinks Stout, Södermalm Pilsner, Tjockhult Tjinook and Vienna Amber Lager. You know, if you can't decide from the list of over 600 bottles including the coveted Cantillon Gueuze and cellared vintage beers that you simply won't find anywhere else in the world.


3. Raleigh Beer Garden—North Carolina
When beer aficionados dream, their REM cycles probably look a lot like this place. You might not imagine that the world's biggest beer garden is in Raleigh, North Carolina but…it is. This beer garden boasts 388 beers on tap and holds as many as 402 beers on any given day. The bottom floor is equipped with 144 draft lines, all of which dispense local North Carolina beers, and the second floor is outfitted with all of the remaining draft lines with beer from across the globe. Oh, and if you go to the world's biggest beer garden for a cocktail, the third floor is designated for locally distilled spirits. Don't be that person.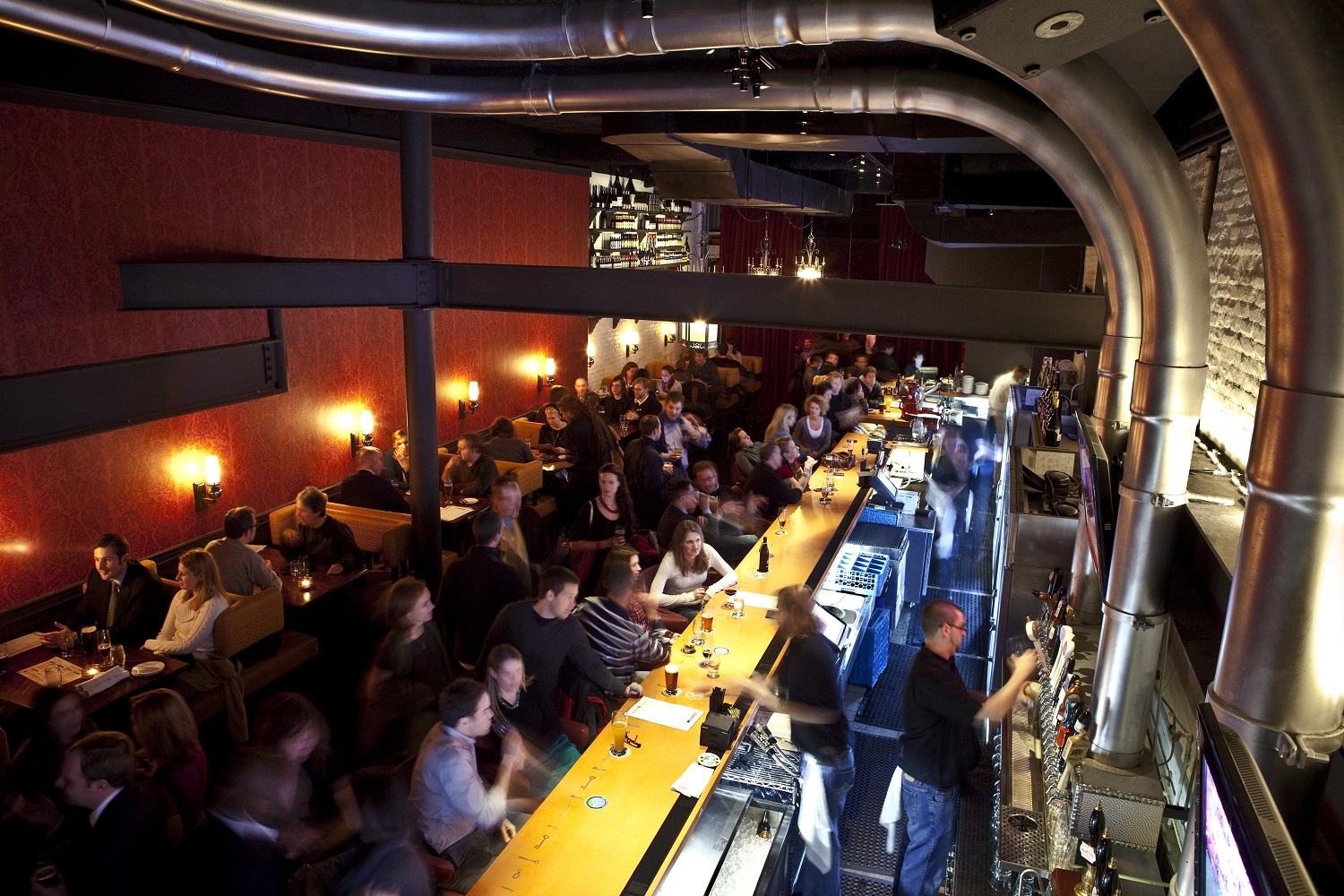 4. ChurchKey—Washington, D.C. An award-winning east coast epicenter. It was designed and developed to celebrate the full spectrum of beer styles, artisans, traditions, regions and flavor possibilities across the nation and the world, which means that it's stocked with more than 500 bottles and has 55 draft lines offering up everything form D.C.'s very own DC Brau or Baltimore's Stillwater to California's Firestone Walker and an array of international beers. The knowledgeable staff can tell you all about whatever choice you make.


5. Empório Alto dos Pinheiros—São Paulo, Brazil
Brazil's capital is known as a bustling financial hub with rich architectural dexterity from neo-Gothic cathedrals to modern skyscrapers. Beer is further down the list. Empório Alto dos Pinheiros has something to say about that, with 33 taps inside, as well as cases upon cases full of over 700 bottles you can drink right there or pick up to go.


6. The Roundhouse—Hong Kong, China
The Roundhouse boasts Hong Kong's biggest beer list. It's a Soho watering hole features 25 taps of craft beer for patrons seeking inebriated respite. Sometimes, the Roundhouse will even host tap takeovers with specific breweries.


7. Cardinal Pub—Stavanger, Norway The Cardinal Pub offers themed tastings to help incomers work their way through the 27 types of beer on tap and approximately 550 bottles. Plus, it's open to crowdsourcing from beer gurus who are welcomed to send the bar a bottle of their own brew to be considered for inclusion. We see what you're doing, Cardinal Pub.


8. Belmont Station—Portland, Oregon
Portland makes more sense, doesn't it? This resident favorite is currently offering exactly 1,403 beers in bottles and cans—they update the list on their website every Tuesday and Friday, and if you think they're missing out on one of your top brews, you can just give them a call. Belmont Station also carries one of Portland's most extensive collections of cider and mead (honey wine), as well as the largest selection of gluten-free beer in Oregon.