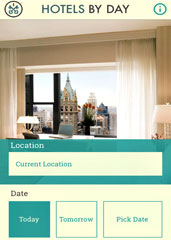 Hotels By Day
is a new website and app that lets you check into hotels in the morning and check out of hotels in the early afternoon.
Hotels By Day is in beta now.
...
It felt good to get that out there. Felt really good.
But turns out, this isn't about us. This is about you and all of the mystical scenarios running through your head right now:
Scenario A:
You've just landed in Chicago, New York, Philadelphia or Washington, DC (they're bringing several new cities into the fold soon), and you need a hot shower and a scone before your afternoon meeting. Hotels are known for their scones.
Scenario B:
You already live in one of those cities but want to experience firsthand the forbidden joys of doing something the hotel prophets said could never be done.
Scenario C:
You don't have an afternoon meeting, but you... met someone that afternoon. Hop on the site or in the app, enter the date and choose the check-in and checkout times that fit your situation (11am to 6pm, 7am to 3pm...).
Scenarios D-Z:
Guess that depends on how Scenario C goes.