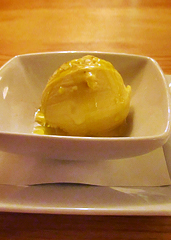 Ah, another dreadfully cold, unseasonably chilly weekend. Followed by another dreadful, unseasonable Monday.
We know just the thing to help. And it's probably not what you were thinking. Because it's ice cream.
Specifically,
Brisket Ice Cream
, a devilish concoction of cold cream and brined, smoked beef drippings, available now off-menu at Firefly.
Now, sure, this is ice cream, so you could have it for dessert. But it's not all that sweet. So the better plan is to sit down at the bar. Order whatever you'd order with, say, BBQ. Then knowingly summon three scoops of this stuff.
Long before you arrived, the chef's been making brisket, which he both brines for seven days and smokes (so think of a Jewish deli, but in the South). And he resolutely catches all the fat drippings. But where one would normally make gravy out of such stuff, he mixes it with cream, milk, sugar and eggs, then churns it and freezes it.
Before it hits your plate, it gets a little sea salt, pepper and olive oil. The result: a doubly fatty, unexpectedly salty appetizer.
Or the best thing you could ever melt in your coffee.