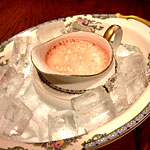 ALAMAGOOZLUM AT FAIRSTED KITCHEN
J.P. Morgan Loved This. Just Saying.
You Require: The liquid indulgences of a Gilded Age plutocrat.
You'll Receive: Something that sounds like a Dr. Seuss character but was really J.P. Morgan's vice of choice: a mini punch bowl filled with Chartreuse, rum, genever and an egg white. So it's a great source of lean protein. Well, and rum.