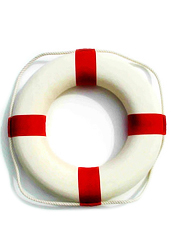 Cut to the day after tomorrow.
You're at the helm of a 35-foot marine vessel. You're yelling things like "Confine the edges of the tarpaulins and keep them close down to the sides of the hatchways." (Or, like, "Yay, sailing.") You're warm. You're relaxed. You're...
... inside the Georgia World Congress Center at the
Atlanta Boat Show
.
And after you've had your fill of wistfully admiring seacrafts, there are some alternative goings-on you should probably look into.
Be on the lookout for giant alligators.

Because some guy is about to wrestle one in a shallow pool in front of you and then let you hold a baby one afterward. It's just like a human baby, except nothing like a human baby.
Maybe run around in a floating
hamster wheel.

The closest you'll come to navigating open waters this weekend: getting into what looks like a giant clear inner tube crossed with a hamster wheel and running around a pool. Boat shows...
Then find halls C2 to C4.

That's where the bar carts, beer trailers and Jim 'N Nicks BBQ stands will be hiding. And they'll start $5 drink specials as soon as the weekend hits.
Maybe don't celebrate by slamming a bottle of champagne against a yacht.