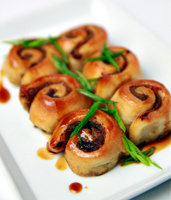 And now, a brief history of man's evolutionary breakthroughs:
3.5 million BC:
He begins to walk upright.
4500 BC:
He figures out how to use crude stone tools.
2900 BC:
The first written languages appear.
2012 AD:
He stuffs a cinnamon roll with pork confit.
Too bad Kubrick couldn't be here for this, because the age of the
Pull-Apart Pork Sticky Buns
is upon us. Ground zero: PS 7's in Penn Quarter, where you can find them on the
new spring menu
.
This is just like that dream when you went to Cinnabon and found charcuterie hanging everywhere. Also: this is basically what happens when pork makes its way into your favorite highway rest stop snack.
It's pretty much a tray of miniature, yeasty sweet rolls, all adorned with the usual butter, sugar and cinnamon you've come to expect. And all the pork you haven't come to expect—namely, pork shoulder, cooked in its own fat, whipped with herbs and rolled up into the dough, and pork jus, just drizzled all over the plate.
The result is a sweet, salty, meaty wallop that's as much at home in front of your happy-hour beer as it is next to your morning eggs and coffee.
Let them try that on the New Jersey Turnpike.